In a recent interview with German magazine Manager Magazin, Siemens CEO Joe Kaeser affirmed he was unaware of Osram's investment plans, and noted the company had not sold a single share it had in Osram.
Kaeser expressed discontent that Osram's share prices crashed and lost nearly 30% of its value, since the former lighting subsidy announced plans of investing EUR 2 billion (US $2.18 billion) in R&D over the next five years, and 1 billion (US $1.09 billion) in additional CAPEX for the construction of a new fab for LED chips for general lighting in Malaysia back in November 2015.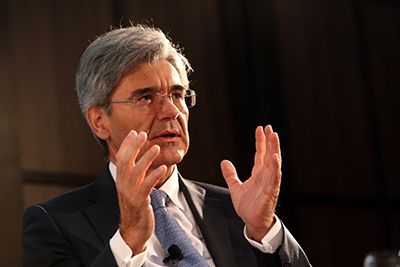 Joe Kaeser, President and CEO Siemens, at a plenary discussion on employee participation in Germany at "Tag der Teilhabe" (German for "Ownership Day") 2015 in Berlin, Germany. (Photo courtesy of:www.siemens.com/press)
"Of course I was not happy that Osram share price crashed from this strategy change by almost 30% and the value of our stake has shrunk from EUR 940 million to around EUR 680 million," said Kaeser.
As a shareholder, Siemens was clearly unhappy with recent market developments, which has caused it to lose a considerable chunk of its investment. After the spin off in early 2013, Siemens owns 17% of the Osram shares. Since then, the share price rose from 26 Euro per share up to more than 55 Euro. Now, after the announcement of the strategy change the share price has tumbled down to EUR 37.81 per share as of Jan. 4, 2016. 
Kaesar also affirmed the company was not informed about Osram's decision. Dr. Roland Busch, who is a member of the Managing Board of Siemens is also a member of Osram's Supervisory Board. As a supervisory board member, Busch was aware of the strategy change and agreed to Osram's plan. Many in the industry assumed he had passed on information to Siemens.
"No, neither I nor the other Siemens Board knew," said Kaesar. "Busch has in mind the board interests of Osram, which he represents. He does not speak with us about Osram's strategy."
Siemens also does not exchange information about how it will manage its shares in Osram with Busch, he added.
The magazine also asked if Siemens had any plans of selling its 18% stake in Osram, which Kaeser replied the company had not sold a single share in Osram. So far there is no public statement from Siemens indicating that they are planning to sell shares. 
"At first we have to understand the intention of the Osram plans and understand how they will be implemented," said Kaeser. "One thing is certain that Osram's strategy change has taken the market abruptly."
The magazine also asked Kaesar if Osram's Chief Financial Officer (CFO) Klaus Patzak lack of support had impacted the lighting company's communication to the capital market that had been taken wrongly. Kaesar responded usually CFO's are not responsible for company's communication strategies. However, Patzak had officially supported Osram's R&D investment decision.